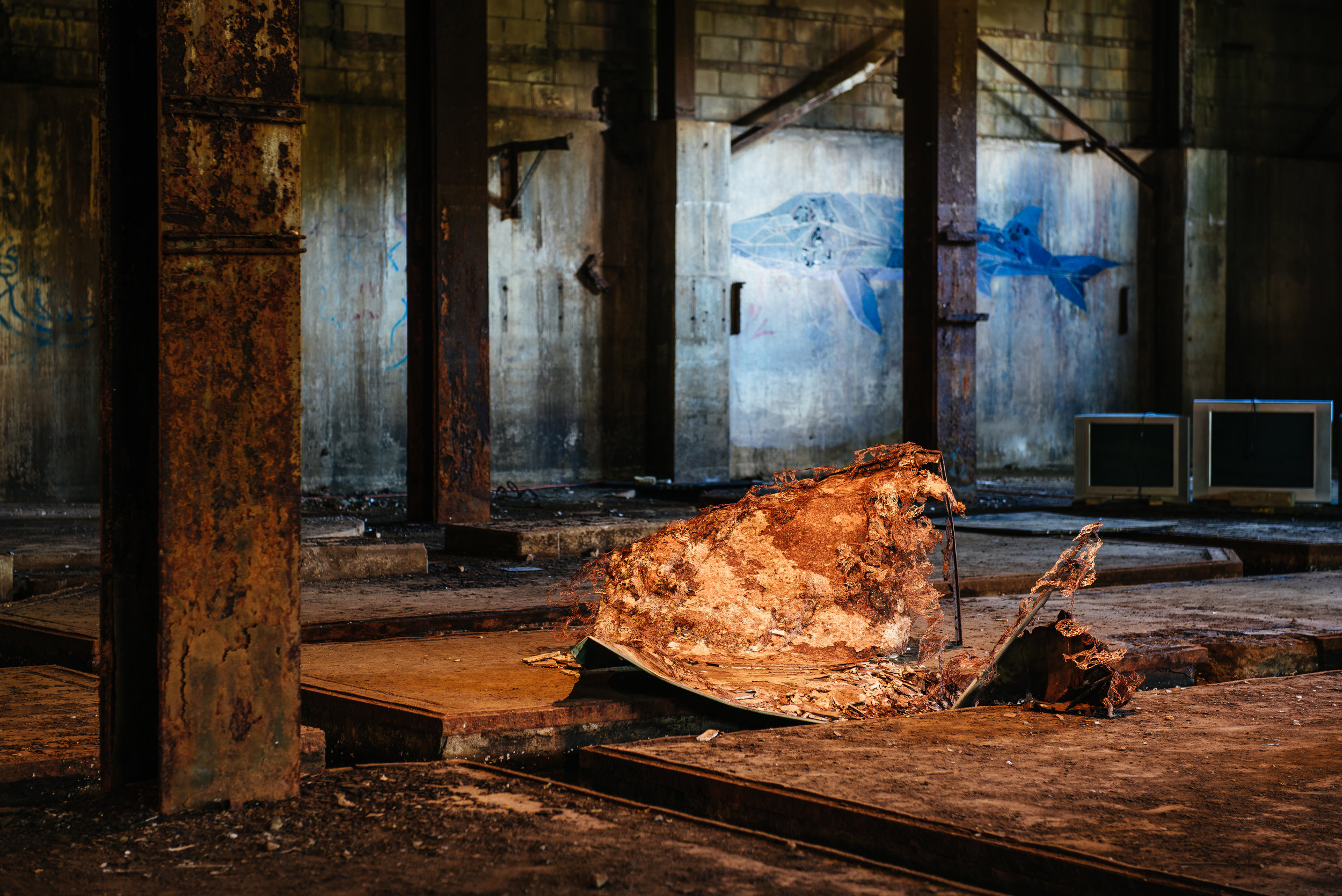 August 2016
Opening Reception: Saturday, August 6, 2016 | 5 – 8:30pm
Artist Lectures: Thursday, August 11, 2016 | 6 – 7:30pm at Burlington City Arts
Closing Event: Sunday, August 28, 2016 | 5-8pm

Location: The Moran Plant
1 Lake Street
Burlington, Vermont 05401
Overnight Projects is proud to present the exhibition Modes of Conduction, which invites Germany-based artists Vesko Goesel, Peter Miller, and Viktoria Strecker to create site-responsive, installation-based works in the abandoned Moran Plant on Burlington, Vermont's waterfront.
The Moran Plant functioned as a generator of energy. A machine whose massive turbine generators and switchgear assemblies were activated by workers-like-conductors to set off a daily assemblage of sounds. The machine, a monstrous skeleton of steel wrapped in skin of cinderblock, emitted a cacophony of industry: harmony, rhythm, and melody, the chorus of grinding gears and humming motors. Each day, workers-like-spectators witnessed the light moving across Moran's vast interiors, changing its colors from blue to amber, signaling the end of the day, the end of the concert.
In this exhibition, Goesel, Miller, and Strecker will reactivate the machine that is Moran, and conduct through material interventions, a series of sounds, sights, and phenomena: Goesel through large, reflective fabrics, Miller through works imbued with uncanny sensations, and Strecker with automatic musical instruments and sounds created with rainwater collected in the building's inner troughs.
Modes of Conduction opens at the Moran Plant in Burlington, Vermont with a reception on Saturday, August 6th from 5-8:30pm, followed by artist lectures at Burlington City Arts on Thursday, August 11th at 6pm, and a closing event at Moran on Sunday, August 28th from 5-8pm. Attendees will need to submit New Moran's Online Waiver waiver before the opening and closing receptions.
Support Modes of Conduction
Please consider supporting this exhibition, the largest project we've organized since founding Overnight Projects, an artist-run, 100% volunteer-based organization, in August 2015.
Donations of $50 or more are tax-deductible through our fiscal sponsor, the BCA Foundation. Your contribution will go toward artists' stipends for the creation artworks, the opening reception, lecture, and associated exhibition costs. Donors receive recognition on our website and a special invitation to a VIP preview and talk with the artists on August 6 from 4-5pm.
Please note: we are not immediately notified about donations made through BCA, BUT WE WANT TO BE ABLE TO THANK YOU! Please shoot us an e-mail to let us know that you've made a donation, and allow us to share our gratitude.
Artist Bios
Vesko Goesel (1983) born in Nordhausen / former East Germany, works with the condition of photography in its relation to both the everyday as well as to the art world. His interests are in the nature of photography and the world that it creates. His art-works are conceptually based, but intuitively wrought and result just as often in photographs as in drawings or sculptures. He currently lives and works in Mönchengladbach, Germany.
Born in Burlington, Vermont, Peter Miller is an artist specializing in film and photography. He attended C.P. Smith Elementary School, Lyman C. Hunt Middle School and BHS, Burlington High School. His film and photographic works are preoccupied with magic and generally investigate the phenomena of the cinema and its constituent, irreducible elements: lens, light, flicker, audience, projection, etc. His films are distributed by Light Cone in Paris and he is represented by Galerie Crone in Berlin and Vienna.
Starting with drawings Strecker is searching for a universal (all-purpose) figurative language. Subconscious algorithms and states of losing control are in contrast to focused accomplishments within repetitive systems. The combination of both states is part of a self-reflected experiment to create complex archetypes in absolute necessity. Encryption of language or transmission of information from one material to another are building the base for her filigree drawings, objects and installations and become part of a connected (interrelated, coherent?) theory about the world. Viktoria Strecker was born in Hannover (1987) and studies at the Kunstakademie Düsseldorf
Exhibition Sponsors
Modes of Conduction is made possible with support from the following: