August 9 - August 16, 2019
Opening Reception: Friday, August 9, 6-9pm
Organized by Overnight Projects
Location: Generator, 40 Sears Lane, Burlington, Vermont
As Generator's August Maker in Residence, Overnight Projects Presents Immigration and Incarceration Themed Collaborative Video Installation and Performative Lecture by Maya Jeffereis and Elliott Katz.
In Liminal States: What Were Some of the Things You Missed from Home?, artists Maya Jeffereis and Elliott Katz have collaborated on a two-channel video installation and itinerant library that examines the longstanding history of separating families and incarcerating minorities in the United States. As grandchildren of Japanese American incarceration survivors, the artists have created an experimental documentary that weaves personal, cultural, and historical memories together through a combination of interviews, family photos, and archival images. The artists link the history of Japanese American incarceration with the current practice of separating immigrant families and detaining children in government facilities. One such facility, Fort Sill in Oklahoma, has served as a relocation camp for Indigenous Americans and a residential school for indigenous children in the 19th and 20th centuries, a World War II Japanese American incarceration camp, and a U.S. Immigration and Customs Enforcement (ICE) detention facility today. Drawing a comparison between these histories, Jeffereis and Katz created a found footage video montage comprised of propaganda films, news coverage, and home videos. The artists invite visitors to further engage with these histories in the Itinerant Library which contains a selection of books recommended by the artists. In Liminal States, the artists link the past with the present in an attempt for history not to repeat itself.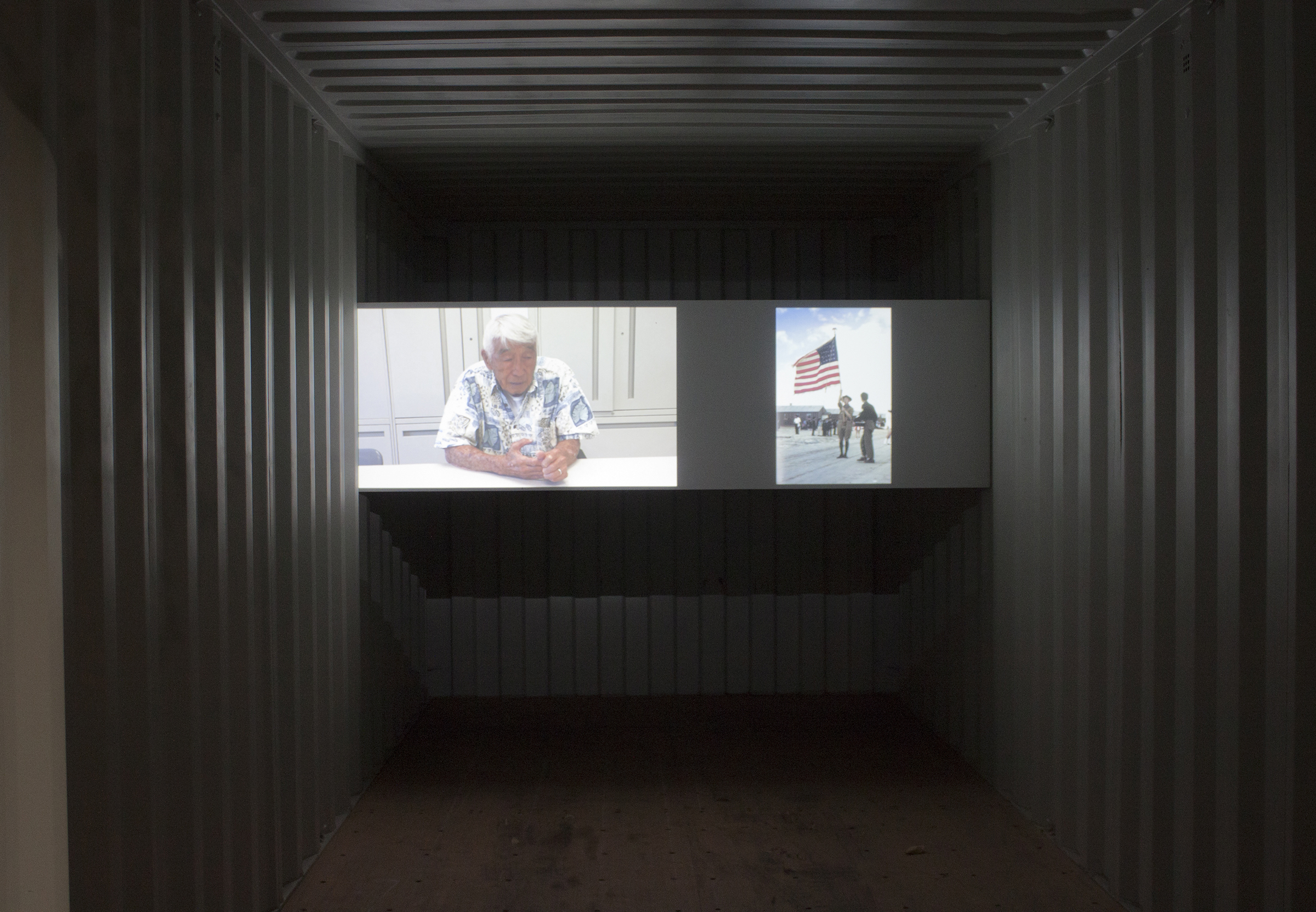 Maya Kaminishi Jeffereis (b. Los Angeles, CA; lives and works in Brooklyn, NY) is a multidisciplinary artist whose practice addresses narratives that are often overlooked, forgotten, or disappeared. Her work has been shown at the Queens Museum, Queens (2018); ArtHub Asia, Shanghai (2018); the Hirshhorn Museum and Sculpture Garden, Washington D.C. (2017), among others. She has received awards from the Banff Centre, Alberta; Bemis Center for Contemporary Arts, Omaha; and Cisneros Initiative for Latin American Art, NYC. She is a current artist-in-residence with Lower Manhattan Cultural Center (LMCC) Art Center, NYC and is a Media Arts Fellow at BRIC Arts Media, Brooklyn. She teaches at The Museum of Modern Art and Hunter College in New York. Jeffereis received an MFA from Hunter College and a BFA and BA from the University of Washington.

Raised on a vegetable farm in rural Vermont, Elliott Katz is the youngest child in a self-described "earthy, multi-ethnic family." His mother is a third generation Japanese American and his father is of Russian Jewish descent. His heritage underlies his interest in craftsmanship as well as his selection of materials. Katz's lifelong negotiation of his complex identity drives his interest in using art as a way to draw attention to the circumstances in which people move both freely and forcedly throughout the world. His combination of materials provides a whimsical opportunity to thoughtfully confront the realities that arise from the collision of cultural histories. Katz's recent installation "Other Planet" was acquired by the Everson Museum in Syracuse, New York and he has exhibited widely including at Sideshow Gallery in Brooklyn, NY, Schelfhaudt Gallery in Bridgeport, Connecticut, Shelburne Farms, Shelburne Vermont and BCA Center in Burlington, Vermont. He received his B.A. from Colby College and his M.F.A from the University of Connecticut.